INTRODUCING RIGHTEYE
We are proud to offer RightEye eye-tracking testing and prescribing.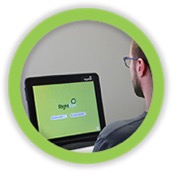 RightEye's testing and prescribing protocols are the only objective vision and health tests using eye-tracking technology in the world. RightEye testing protocols assists us in providing the best possible vision care for our digital and computer using patients.
Using a scientific-based, metric-driven methodology, RightEye's patented technology measures visual skills and provides earlier, faster, more accurate insights related to computer vision efficiency, coordination and perception.
RightEye reports provide objective, online access to graphing of ones abilities and shortcomings, and precise metrics against age-based norms for those working in a computer using environment. It is from these reports that the proper prescription and recommendations can be made.
While the testing takes only a few minutes, RightEye analyzes the responses and prints an in-depth report that will be explained by the doctor and given to the patient for their permanent record.
To make an appointment, including the RightEye testing, please click on the button below.